Zanouche
is an elderly female bald eagle.
Spoiler warning!
This article contains plot details from one or more of the books.
Family
Mate - Eelon
History
Although not appearing in the text, it is said in Star Wolf that she flew over Faolan on his tummfraw. The eagle thinks about whether to pick up the pup or not, and she decides not to. Zanouche tells her mate, Eelon, about the strange pup afterward.
She is first seen flying to warn the travelers about Heep's rout coming over the ice bridge.
Zanouche and her mate, Eelon , had a nest in Ambala before the earthquake.
She plays a major role rescuing and caring for pups. She then joins Faolan's brigade, and accompanies them on their journey to the
Distant Blue
. In the final battle, she and her mate help attack the outclanners and Heep.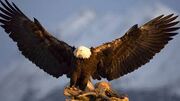 Ad blocker interference detected!
Wikia is a free-to-use site that makes money from advertising. We have a modified experience for viewers using ad blockers

Wikia is not accessible if you've made further modifications. Remove the custom ad blocker rule(s) and the page will load as expected.