The MacNab Clan is one of the many wolf clan's in the Beyond.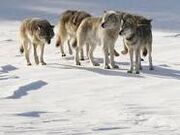 They are not very well known; only being mentioned a few times in the books. What is known is their chieftain, two pack member's, and their location. It is a very small clan, with only two packs in it.
Location
The MacNab clan territory is south of the MacDuff Clan, MacDuncan Clan and Gwynneth's forge, southeast of the MacAngus clan and MacDonegal clan, and southwest of the MacNamara clan. The MacNabs are in the southeastern corner of the Beyond, next to the Shadow Forest and the Salt Lakes.
Packs
The only known pack of the MacNab clan is the Carreg Gaer. One is known, but is not named. The Sark said there were only two packs in the entire clan, so it was exceedingly small.
History
The Sark of the Slough remembers back to when she was a pup in the MacNab clan. She tells about her mother, Amber MacNab, and other wolves in it. The Sark mentions that the clan is very small, with only two small packs.
Known Members
Drummond MacNab (most likely deceased)
Known Clan Members
Amber (deceased)
Unnamed Lord (Amber's mate, deceased)
Ex-Members
Deceased Members
Trivia
The Sark nick-named it the 'MacNabbys'.
Nab is an old Irish name meaning "abbot", while "mac" is the Irish word for son. All together, this means Son of the Abbot, or Son of Nab.
Ad blocker interference detected!
Wikia is a free-to-use site that makes money from advertising. We have a modified experience for viewers using ad blockers

Wikia is not accessible if you've made further modifications. Remove the custom ad blocker rule(s) and the page will load as expected.